Screen Printing:
Call for a quote -- pricing per shirt varies depending on number of shirts ordered, number of print colors, etc.
Vector Conversions:
> Simple Conversion: $15, 2 free revisions - Each subsequent revision is $10
Complex Conversion: $50, 2 free revisions - Each subsequent revision is $10
Simulated Process:
$80 per separated design for designs consisting of four (4) colors or more. Three colors or less will be charged $20 per color. Fee covers separation of art only. If changes to artwork are made after separating in such that the design must be re-separated, an additional fee will be charged.
If customer cancels after artwork has been separated, a 50% kill fee will be charged.
Halftone Generation:
$3 per separation for artwork handled by Dynamik Graphics (vector conversion, simulated process, custom artwork, etc)

$10 per separation for artwork Dynamik Graphics hasn't previous worked with.
Logo Design:
$150 flat rate per new design. Fee includes initial conception, design, illustration, vector work, raster work and selling of intellectual rights to customer. 2 free revisions. Each subsequent revision to existing logos is $10.

$75 per additional logo that is a variation/inspiration from an previously designed logo. (fee covers revision time & selling of intellectual rights for new logo art)
If customer cancels during/after logo has been designed, a 50% kill fee will be charged.
Graphic Design:
$35 per hr design fee (1 hr minimum)- 2 free revisions, subsequent revisions are $35 per hr
If customer cancels during/after artwork has been designed, a 50% kill fee on total accumulated design/revision hours will be charged.

Two (2) week deadline on response and/or approval, else full price will be billed.
Miscellaneous Fees:
Any requested changes to existing artwork not previously handled by Dynamik Graphics will be charged $15 per change. Additions to vector art that require a bitmap-to-vector conversion will be charged as a Vector Conversion.

Mockups and/or any type of graphical representation intended to illustrate how artwork will appear on a substrate will be charged $10 per mockup with two (2) free revisions. Subsequent revisions are $10 each. Any mockup fees are in addition to other charges.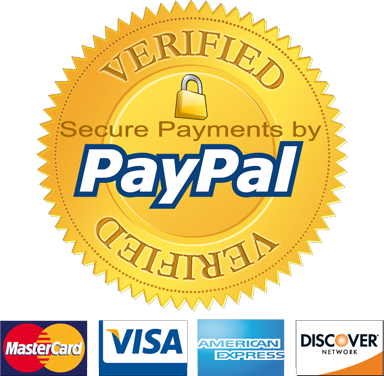 ---
Payment:
We accept all major credit cards. Payment not required until customer has received vector or high-resolution raster formats of requested artwork, except in cases where no approval/revision/rejection of Graphic Design proofs has been received within two (2) weeks. Once vector, high resolution raster, Photoshop separations, or any other form of "final" or "usable" file has been released to the customer, an invoice is emailed to the customer with a link to pay via PayPal or accepted credit card. Customer not required to open a PayPal account to pay. Payment is due within 30 days of receipt of invoice. After 30 days, Dynamik Graphics will send a reminder to the customer via PayPal requesting immediate payment. After 60 days, if customer has not paid the full balance due, Dynamik Graphics will mail a copy of the invoice to the customer's physical address of business requesting immediate payment. If balance has not been paid after 30 days from date of invoice, a 1.5% (of the balance) late fee will be charged for each additional 30-day period a balance remains unpaid.

Privacy Statement:
At no time does PayPal allow Dynamik Graphics access to customer credit card information. Additionally, Dynamik Graphics will never, under any circumstances contact customers directly by any means requesting financial, credit card, or any other personal information. Payment requests from Dynamik Graphics will ALWAYS come in the form of PayPal invoices bearing the "Dynamik Graphics" logo. Dynamik Graphics does not sell, distribute, offer, or allow access to customer email addresses (as well as any other personal information provided by customers over time) by any third parties.